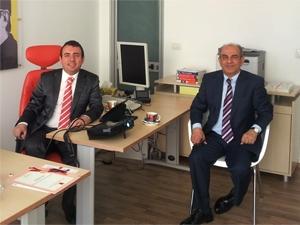 Today, February 29th, 2012 at 11:00 a.m. the ambassador of Turkey in Tirana, Mr. Hasan Sevilir Asan visited Anegino office.

Project leader of Anegino, Mr. Onur Polat made a detailed presentation about Anegino services to Mr. Asan. "Anegino has become the efficient and highly visited job advertisement platform in Albania in a few months. We are happy to anounce this success." he concluded. Morever, Mr. Polat thanked Mr. Asan for the visit that honored Anegino team.

Mr. Asan indicated satisfaction about success of Anegino. More precisely, Mr. Asan said, "The fact that Anegino provides services in four languages including Turkish is a strong sign of the success of Turkish investments. I am happy to observe this success."

Anegino is a web site where businesses in Albania can publish their job advertisements and job seekers can apply to those advertisements with a single click. Anegino is known to be growing rapidly.